30 November 2018

Volkswagen and Tesco partner for EV charging revolution as most fleets look to plug-in
Volkswagen and Tesco are to develop the largest UK retail electric vehicle charging network with 2,400 bays rolled out across 600 store sites within the next three years.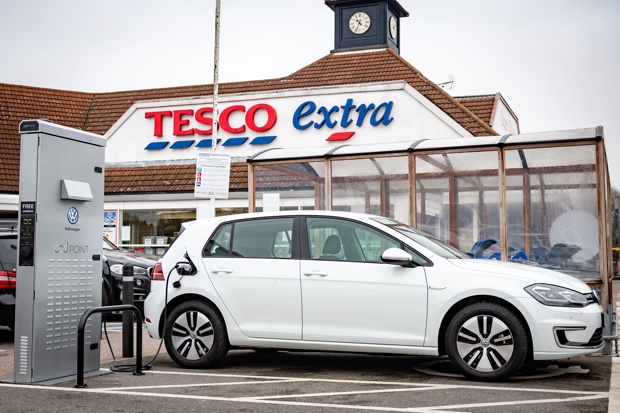 Who? Tesco, Volkswagen and Pod Point.
What? The three businesses have partnered to provide the largest charging network in the UK. Tesco customers can charge their electric cars using a 7kW charger for free, or pay to use 'rapid' 50 kW charger. Over 2,400 EV charging bays will be rolled out across 600 Tesco stores.
Where? Tesco Extra and Superstore car parks.
When? The charging bays will be installed over the next three years.
Why is this important? A study has found that the majority of fleet managers expect the EV market to grow rapidly.
The charging bays will be based in Tesco Extra and Superstore car parks throughout the UK, and will be installed by the UK's largest independent public charging network operator, Pod Point.
Drivers will be able to charge their electric cars using a standard 7kW fast charger free, or benefit from the use of a rapid 50 kW charger for a "small cost" in line with the market rate.
The world's largest vehicle manufacturer and the UK's largest fuel retailer announced the development as it was revealed that almost half of today's UK fleets (46%) were without any electric vehicles, but most fleet managers (89%) expected them to play a dominant role in their company's fleet before 2028.
The UK-wide study of 250 fleet managers, conducted by Censuswide with Geotab, which claims to be a global leader in the Internet of Things and connected transportation, demonstrated the rising preference for alternative vehicles, the availability of government incentives and technological advancements to support and accelerate the transition to a fully electric future, it was claimed.
Meanwhile, the "ambitious initiative" between the motor manufacturer and the supermarket giant underlined, said Volkswagen, its commitment to becoming a leading player in e-mobility and its delivery on its pledge to sell one million electric cars a year worldwide by 2025.
Volkswagen's ID. family of all-electric models, based on the Volkswagen Group's new MEB electric platform, will begin coming to market in the UK next year as order books open for the ID. hatch - a fully electric Golf-sized model that will be followed from 2020 by production versions of the ID. BUZZ (MPV) and ID. CROZZ (SUV) concept cars.
Geraldine Ingham, head of marketing at Volkswagen UK, said: "This incredibly exciting partnership with Tesco, powered by Pod Point, underlines the scale and ambition of our electric car programme in the UK.
"Working with these partners to provide such an extensive network of electric vehicle chargers should leave no one in any doubt about the Volkswagen brand's wholehearted commitment to an electric future."
Tesco said it wanted to offer customers and local communities an alternative to fossil fuels, and also play its part in supporting the transition to a low-carbon, clean air UK.
Erik Fairbairn, CEO of Pod Point, said: "This agreement represents a 14% increase in the number of public charge bays in the UK and is a monumental day for electric vehicle drivers. It is a massive leap forward for the UK and a significant step in our mission to put a Pod Point everywhere you park."
Meanwhile, according to the Geotab study, government incentives (48%), improvements in charging infrastructure (48%) and an improved selection of models by motor manufacturers (32%), were the leading motivators in the transition to a fully electric fleet.
With sustainability top of mind, more than half (59%) of respondents agreed that the main benefit of electrification was the environmental impact. That was followed by increasing fuel costs (46%) and potential cost reductions in the operation, maintenance and upkeep of fleets (42%).
On the other hand, said Geotab, fleet managers were still facing major barriers, including high vehicle costs, long charging times and the low distance range of today's vehicles.
Edward Kulperger, VP Europe at Geotab. "With most fleet leaders looking to have a fully electric vehicle-dependent fleet over the next few years, It is no longer a question of if, but rather how soon a complete overhaul can take place."