17 July 2015

Corporates lead plug-in car charge as registrations soar
Fleets and small businesses are leading the charge for plug-in cars and vans as new figures show registrations have surged in the first six months of 2015.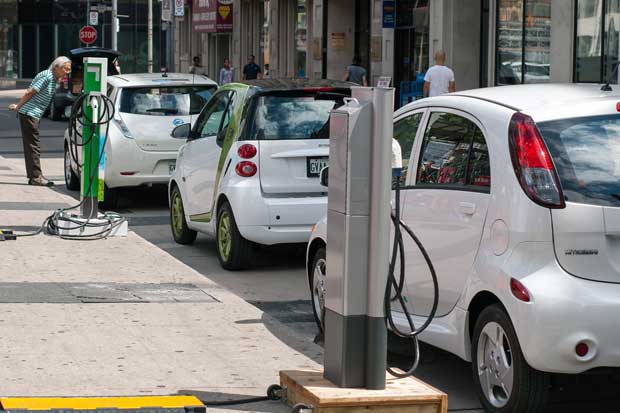 Data from the Society of Motor Manufacturers and Traders reveals that plug-in car registrations have accelerated rapidly over the first six months of 2015, growing 256% against the same period last year and surpassing the 2014 full-year total with six months to spare.
From January to June, 14,586 ultra-low emission cars were registered - up from 4,096 in the first six months of 2014 - and beating the whole of last year's 14,498 total.
Further analysis reveals that 9,527 of cars registered this year were to fleets and small businesses a 277% increase on last year's six-month total of 2,527 cars.
Go Ultra Low, the government and motor industry funded organisation promoting plug-in vehicles, says that an increasing number of fleets are switching on to the money-saving benefits of operating a plug-in electric vehicle.
Transport Minister Andrew Jones said: "Soaring demand across the UK shows that more and more people view ultra-low-emission vehicles as the right choice for them. Plug-in cars are green, cheap to run and benefit both businesses and families. The government is investing £500 million over the next five years to help position Britain as a world leader in the technology, supporting skilled jobs and driving economic growth.'
Meanwhile, demand for plug-in vans has increased 85% in the first six months of 2015 with registrations totalling 525 units versus 284 last year. Almost all those light commercial vehicles are being operated by fleets and small businesses with corporate registrations up 82% to 512 units from 281 in the same period last year.
Currently government grants are available for 35% off the cost of a car, up to a maximum of £5,000 and 20% off the cost of a van, up to a maximum of £8,000. The Department for Transport currently lists 27 cars as available for grant aid and nine vans (see: https://www.gov.uk/plug-in-car-van-grants/overview).
The record volumes, said Go Ultra Low, emphasised the sustained and increasing scale of the UK electrically-powered vehicle market. It suggested that the government's expectations that 5% of new car registrations (around 100,000 units) would be ultra-low-emission by 2020 looked to be achievable at the current rate of growth.
Go Ultra Low points to the importance of fleet decision-makers in using vehicle whole-life-cost calculations as the basis for vehicle selection to highlight the benefits of ultra-low-emission vehicles.
Whole life costs reflect all the projected, vehicle-specific costs associated with operating a car over its fleet life, including: vehicle funding inclusive of any VAT recovery and corporation tax relief, the cost of borrowing money, fuel, employer Class 1A National Insurance contributions, service, maintenance and repair, Vehicle Excise Duty and insurance.
For electric vehicles, the higher list price when compared with petrol and diesel cars is more than offset by other benefits such as around 8p per mile in fuel savings, an estimated 20-30% saving in service, maintenance and repair costs and Vehicle Excise Duty and Class 1A National Insurance benefits.
In addition, company car benefit-in-kind tax rates have been set until 2020, which is when London introduces what is expected to be the world's first Ultra-Low Emission Zone.
In explaining that whole-life-cost criteria provided the best forward estimate of the real costs to an organisation, in delivering business mileage, over a vehicle replacement cycle, Hetel Shah, head of Go Ultra Low, said: 'The balance of costs and benefits are unique to electric vehicles and therefore it is important that Go Ultra Low promotes the advantages of ownership and the financial savings they can deliver on operating budgets to fleet decision makers.'
She added: 'The year-on-year rises give us great confidence in the future of electric cars as we move towards an ultra-low-emission future.'
The latest data reveals that Mitsubishi leads the new registrations charge, with 7,255 of its flagship Outlander PHEV sold since the start of 2015. Nissan follows with its all-electric Leaf racking up 2,964 registrations and BMW's i3 is the nation's third most popular ultra-low emission vehicle with 1,111 registrations.