11 September 2018

Drivers who fail roadside eye tests to have licences revoked on the spot
Every driver stopped by Thames Valley, Hampshire and West Midlands Police in September will have their eyesight examined and if they fail to read a number plate from 20m (65ft) away will have their licences revoked immediately in a new crackdown.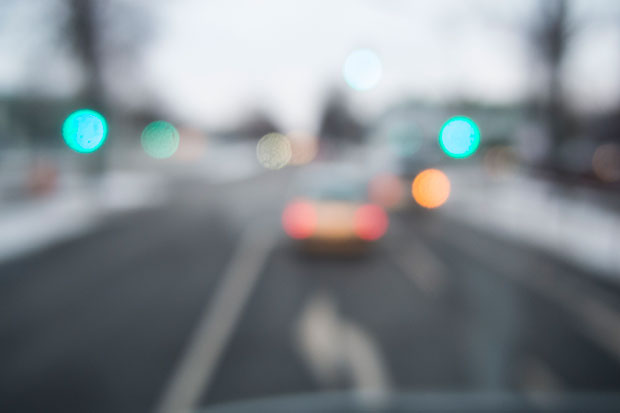 The month-long pilot, which is being backed by road safety charity Brake and optician Vision Express, is designed to improve understanding of the extent of poor driver vision.
Both Brake and Vision Express want a mandatory eyesight test to be introduced for drivers when photocard driving licences are renewed every 10 years.
Police officers can request an urgent revocation of a licence through the Driver and Vehicle Licensing Agency (DVLA) if they believe the safety of other road users will be put at risk if a driver remains on the road.
An estimated 1.5 million UK licence holders have never had an eye test and crashes involving a driver with defective eyesight are thought to cause 2,900 casualties every year on the UK's roads. However, the UK's driver vision testing remained "inadequate and antiquated", according to Brake.
Joshua Harris, director of campaigns for Brake, said: "It stands to reason that good eyesight is fundamental to safe driving, yet our current licensing system does not do enough to protect us from drivers with poor vision. It is frankly madness that there is no mandatory requirement on drivers to have an eye test throughout the course of their driving life, other than the disproven 20 metre number plate test when taking the driving test. Only by introducing rigorous and professional eye tests can we fully tackle the problem of unsafe drivers on our roads.
"Partnering with the police on this campaign will help us understand the extent of poor driver vision in the UK, an issue where good data is lacking. This is the first-step on the road to ensuring that good eyesight is a given on UK roads - the public shouldn't expect anything less."
Drivers must wear glasses or contact lenses every time they drive if they are needed to meet the 'standards of vision for driving'. Furthermore, it is a driver's responsibility to inform the DVLA if they have any problem with their eyesight.
Sgt Rob Heard, representing the police forces taking part in the campaign, said: "All of us require good vision to drive safely on our roads - not being able to see a hazard or react to a situation quickly enough can have catastrophic consequences. The legal limit is being able to read a number plate at 20 metres, around five car lengths, however this is a minimum requirement and a regular eyesight test with an optician is a must if we are going to be safe on the road."
He warned that officers would be carrying out eyesight checks "at every opportunity".
The power to revoke licences was introduced in 2013 under Cassie's Law, named after 16-year-old Cassie McCord, who died when an 87-year-old man lost control of his vehicle in Colchester, Essex. It later emerged he had failed a police eyesight test days earlier, but a legal loophole meant he was allowed to continue driving.
Meanwhile, IAM RoadSmart has reminded drivers that in addition to having an eyesight test, they can expect to be tested for a suite of reasons if they happen to be stopped by the police.
IAM RoadSmart has welcomed the new trial and Neil Greig, IAM RoadSmart director of policy and research, said: "Law abiding drivers have nothing to fear from this - but we believe that extending the range of checks that the police could and should be doing will help remove many more unsafe drivers from our roads.
"They should be, as a matter of course, examining the following five key items: driving licence, MoT, vehicle insurance, drink/drugs and now eyesight.
"Adding a vision test to the standard list of roadside checks will be a sharp warning to those drivers who chose not to wear their glasses, or not get their eyesight checked, that the enforcement is now out there to back up the regulations. Our message is simple - don't risk it!"