1 November 2019

Fleets and drivers urged to be on their guard as stolen vans hit record high
Fleet operators and van drivers are being urged to increase light commercial vehicle security after new figures have revealed a 45% rise in thefts in the last four years.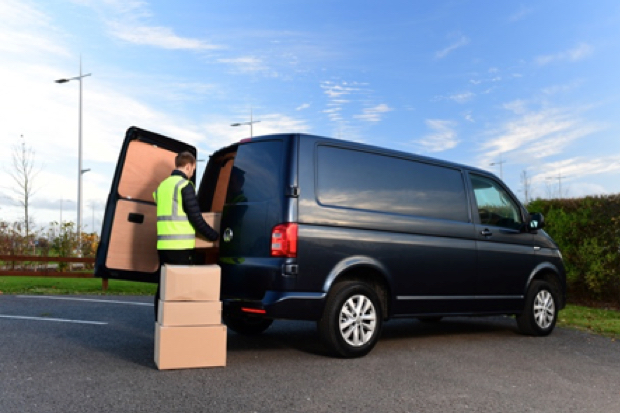 Meanwhile, according to vehicle protection company Tracker, the Ford Transit was the UK's most stolen and recovered van in 2018, followed closely by the Mercedes-Benz Sprinter.
What's more with a 55% increase in claims costs for the theft of tools from vans in the past year, tradespeople are not just at risk of losing their vehicle, but their livelihood too, according to the company, which works in partnership with UK police forces, and is urging tradespeople to protect their van and its contents from theft.
"Over £500,000 worth of vans were stolen and recovered by Tracker last year," said Clive Wain, the company's head of police liaison. "But that's just one side of the story; with the average tool theft costing victims over £3,000 together in lost earnings and tool replacement - not to mention the loss of reputation when a tradespeople can't turn up for a job, it's not surprising they are feeling increasingly victimised by organised van thieves."
More than 30,000 vans have been reported as stolen across the UK since 2015/16, according to research by Volkswagen Commercial Vehicles with almost 10,000 commercial vehicle thefts recorded in the last 12 months - a year-on-year rise of 4% and a 45% increase since 2015/16.
Of the 9,371 van thefts reported in the past 12 months, the Metropolitan Police recorded more than half of the total with 4,777 commercial vehicles stolen in the area - a rise of 15%. Tracker calculates that 89% of van thefts are keyless.
The biggest yearly increase in thefts was reported in Leicestershire with 10 times more vans stolen in 2018/19 than records for the previous year. Van thefts in North Wales doubled while West Yorkshire police records showed a 67% rise. In fact, West Yorkshire was the second highest overall after London (931 thefts), followed by the West Midlands (409 thefts), Essex (387 thefts) and Leicestershire (377 thefts). The information was obtained following a Freedom of Information request, 42 of 47 police forces across UK responded.
Mr Wain added: "As van thefts increase owners need to up their game in securing their property from theft or help ensure recovery if a van is stolen. If they don't keep informed of the latest ways of protecting their van, they may find themselves facing an uphill battle if their insurer feels they haven't taken enough security precautions.
"It's tempting to rely on the security technology that comes as standard with a van, but ultimately, taking a few extra safeguards is not just protecting a van, but taking care of the bottom line of a business. Of course, while a tracking device cannot guarantee a vehicle is safe from theft, it can be incredibly efficient in helping retrieve not just the van, but the tools needed by tradespeople for their very livelihood."
Volkswagen Commercial Vehicle is also advising drivers and operators to ensure that the latest anti-theft devices are fitted and not to leave expensive tools in vehicles overnight.
David Hanna, Volkswagen Commercial Vehicles head of service and parts operations, said: "Our most recent findings are concerning as it reveals that the problem of van theft is getting worse rather than better - and it's a problem right across the country.
"Vans are the lifeblood of so many businesses up and down the country and it's not only the emotional stress of replacing a vehicle but also the days and weeks of letting customers down and the cost of replacing tools, often worth thousands of pounds, before getting back to 'business as usual'.
"We strongly advise not to leave tools in the vehicle overnight and we're also supporting our customers with offers on the latest anti-theft devices to help give them piece of mind."
op tips to secure a van:
Park in well-lit areas or car parks with CCTV or alternatively position a van so that the doors are blocked by another vehicle or object
Window guards or full internal bulkheads can stop would-be thieves seeing inside
Adding security film to the side or back window glass can stop criminals smashing it
Fitting additional locks to rear and sliding doors can help deter thieves. Additional deadlocks and steel-clad locks are advisable and slam locks ensure a door locks every time it's closed - ideal for quick stops
If a van has keyless entry buy a 'faraday bag' that blocks electronic key fob signals from being compromised - use it on site and at home.
Invest in lockable internal racking or secure storage boxes for the most valuable tools
Fitting a tracker can help police hunt down a van if it is stolen plus it may reduce insurance premium
Add extra alarms to vans and use immobilisers to stop thieves, even if they do manage to break in.
Source: Volkswagen Commercial Vehicles and Tracker.
Volkswagen, as part of the Business Pack available across its range of Caddy, Transporter and Crafter, offers an anti-theft alarm system that can be specified with interior monitoring, a back-up horn and tow-away protection. As part of its 'Working With You' promise, Volkswagen also offers a variety of lockable racking solutions and storage boxes for expensive tools.
Volkswagen is also currently offering a deal on its Meta Trak subscription, which allows owners to track their vans in real-time and receive instant smartphone alerts with full UK and European coverage. The one-year kit is currently offered with one month free while those opting for a three-year subscription receive three months free.