16 December 2019

Fleets must expect a 'bumpy ride' in 2020 forecasts new report
Connected, electrified and digitised are the three key words that sum up the 'rewiring' of the fleet industry over the coming 12 months, according to a new report.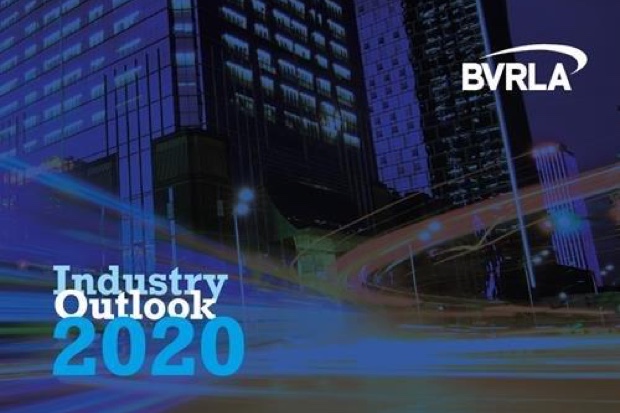 Summary:
Uncertainty over whether cash allowance will replace company cars in 2020.
People who accept cash allowance might return to company cars due to 0% BIK for electric company cars in April 2020.
Electric fleets in 2020 could see a large gap between what is expected and what is deliverable.
There's a new demand for newer, cleaner diesel powertrains.
Connected, electrified and digitised are the three key words that sum up the 'rewiring' of the fleet industry over the coming 12 months, according to a new report.
The British and Vehicle Rental and Leasing Association (BVRLA), of which Activa Contracts is a member, obtained insights from 20 experts from across the automotive sector to compile its 'Industry Outlook 2020' report.
However, there also remains a range of challenges to deal with including: Electric vehicle supply, data availability, vehicle repairability, garage capacity and knee-jerk local transport policymaking, according to the report.
BVRLA chief executive Gerry Keaney concluded: "Our sector is in for a bumpy ride in 2020, but it has both hands on the wheel."
As new technologies revolutionise the fleet industry, the pundits spoken to, which included Caroline Sandall, chairman of fleet manager organisation ACFO, concluded that while the death of the company car had been "greatly exaggerated" the jury was "still out" as to whether there would be any reverse in the downtrend in demand for what has traditionally been a favourite employee perk over many years.
Some pundits believe that cash allowance opt-outs will continue to shrink demand for company-managed vehicles as over-taxed workers were lured by the freedom and value for money offered by personal contract hire sparking rises in the so-called 'grey fleet', employees who drive their own cars on business trips.
The uncertainty created by a switch to the Worldwide harmonised Light vehicles Test Procedure (WLTP) emission and fuel economy testing regime and the gradual "ratcheting up" of company car benefit-in-kind tax had sent the sector into a "terminal tailspin", said the report.
But other pundits pointed to a growing number of cash-takers being lured back into the "no-hassle security of a company car" and the fact that a 0% benefit-in-kind tax rate for 100% electric company cars from April could be a "game-changer".
The report says: "Many of the employees opting out of company cars were low mileage perk drivers. As they begin to look at their next car choice, a low-tax, cheap to run electric car - with all the risk for this new technology borne by their employer - will seem very attractive."
However, while electrification is viewed as "the future", the report makes clear that "we are not there yet" and highlights fears that "2020 could see a wide gap between what is expected and what is deliverable".
"The fleet industry is about to undergo the most transformational period in its history, as electric vehicles change the way business travel is undertaken," said the report, although it added: "Unfortunately, there is a growing gap between the vision and the reality."
The catalyst for plug-in vehicle demand is benefit-in-kind tax rates set at 0% in 2020/21 and rising to just 1% in 2021/22 and 2% in 2022/23. But, the report says: "Getting hold of sufficient pure electric vehicles will be a major concern in 2020. While some electric vehicles are available in volume, the latest, highest-range models are in scant supply.
"The inconvenient truth is that we are in a zero-emission arms race. The best electric vehicles are going to be a scarce commodity for some time to come."
The report also points to "frustration" around the electric vehicle charging infrastructure including issues relating to the installation of points at business premises and with the actual supply of electricity.
But, despite the charge towards electricity - and a forecast that by the end of 2020 pure electric vehicles could account for 20% of new company car registrations - "there is a future for diesel, if politics doesn't get in the way", according to the report.
"Newer, cleaner diesel powertrains provide a low-emission solution for logistics and long-distances, but there is a lot of re-education to do, and confusion to be cleared up. The fleet industry has a vital role in stepping up to show that diesel is still integral to the efficient and sustainable transport needs of British business."
Meanwhile, the report forecasts further rises in demand for cars funded via personal contract hire, while light commercial vehicle demand will also continue to grow fuelled by ever-rising home deliveries.
Simultaneously, the complexity of today's business environment means that fleet decision-makers must take "a more sophisticated approach" to managing their operations rather than continuing to embrace the traditional "one-size fits all" strategy of diesel vehicles for higher mileage and petrol models for less business-critical cars.
Numerous external factors that must be considered when setting policies that must be applied to each car, van and employee include, says the report: Driving in Clean Air Zones; the tax burden for 'perk' drivers; whether plug-in vehicles are viable; what parts of a fleet should be on short, medium or long term contracts; and whether or not salary sacrifice had a role.
The report says: "The truth is that one size seldom fits all. Every business has fleets within its fleet, with each needing to be supplied and serviced differently. The driver behind this change is technology. Increasingly sophisticated fleet management and mobility systems, telematics and data analytics are enabling firms to develop more complex digital offerings that, when combined with more flexible funding and supply arrangements, can deliver for any fleet."
As Ms Sandall said: "We are moving from blended fleet costs to granular detail for every vehicle and driver, treating each more like a retail customer."
However, while rental, leasing and fleet management companies are embracing the digital revolutions, particularly in terms of back office functionality, the "huge benefits" associated with the collection and use of real-time vehicle data in terms of predictive maintenance and safety and asset management has yet to be embraced, says the report.
That's because the issue of who controls the data - motor manufacturer, leasing/rental company or end-user - and how it should be packaged and paid for remained unanswered and with "no conclusion on the immediate horizon" and was thus, potentially, holding back fleet sector innovation.
The report says: "A catch-22 is emerging with most manufacturers unwilling to hand over vehicle data for nothing, while leasing and rental companies are reluctant to pay for it until they can demonstrate how it can be used to deliver fleet management value."
Finally the report predicts that:
2020 will be "a big year" for corporate car sharing and Mobility-as-a-Service" as a growing range of off-the-shelf technology providers were now offering affordable end-to-end platforms that were reducing the barriers to entry for fleets of all sizes.
The next 12 months will see "a big push" from motor manufacturers looking to monetise via a monthly fee their connected car functionality through the sale of 'on-demand features' including power boosts, seat or steering wheel warmers, in-car payment services, insurance and Wi-Fi hotspots.
2020 will see urban parts of the UK become far more complex operational landscapes for fleets with a disjointed local authority approach to improving air quality amid a lack of Government leadership. The report forecasts that if Bristol City Council is given the go-ahead by Whitehall for a diesel ban from April 2021 it could "open the floodgates for other cities to follow suit", while more workplace charging schemes could be introduced.
There will be two major issues for the service, maintenance and repair sector in 2020 - shrinking repair workshop capacity and managing increasingly complex vehicles. As a result, maintaining fleet vehicle downtime at acceptable levels, particularly during seasonal peaks for crashes and breakdowns, will be a major challenge in 2020.
The BVRLA's 'Industry Outlook 2020' report is available at: https://www.bvrla.co.uk/uploads/assets/7cfa334c-9ea2-4073-8464d2131df2070f/BVRLA-Industry-Outlook-2020-Report.pdf