11 April 2019

Fleets urged to adopt e-cargo bikes as Government launches grant funding scheme
E-cargo bikes and trailers could be modes of transport managed by fleet operators as the Government reviews 'outdated' regulations to ensure, alongside e-scooters, they are road legal.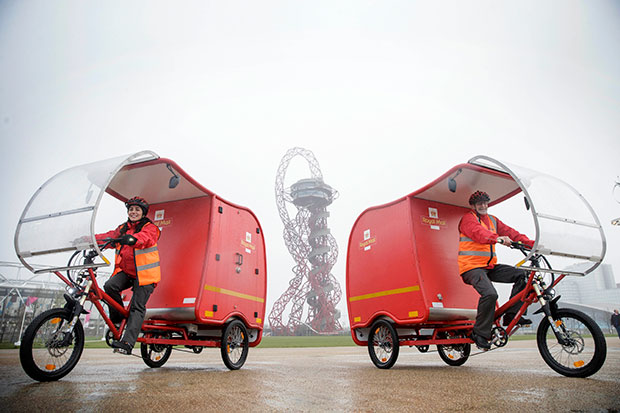 UK Government has confirmed a £2 million investment to help companies invest in e-cargo bikes.
E-cargo bikes offer a zero-emission alternative to traditional 'last mile' delivery vehicles.
Diesel delivery vans travelling short distances are a major source of congestion and produce harmful emissions.
---
Some businesses are already incorporating e-trikes into their fleets after a £2 million investment from the Government.
The Government has published its response to last year's 'The Last Mile: A Call for Evidence on the Opportunities Available to Deliver Goods More Sustainably', outlining a range of measures to support cleaner and more sustainable last mile deliveries. They include increasing the uptake of e-cargo bikes and e-vans.
Future of Mobility Minister Jesse Norman said: "We have a huge opportunity to transform the 'last mile' into an integrated, clean and sustainable delivery system, using zero-emission e-cargo bikes and ultra-low emission electric vehicles."
Christopher Snelling, the Freight Transport Association's head of UK policy, called e-cargo bikes "great" and said the organisation's members were trialling them.
However, he warned: "But at best they will only ever play a specific role in certain types of delivery. Done wrongly, downsizing vehicles would lead to more congestion, not less - one medium-sized lorry can carry as much as 10 vans, one van can carry as much as 10 e-cargo bikes. All these vehicle types are needed, but none can or should replace the other."
Royal Mail, which operates the UK's largest vehicle fleet, is one organisation, along with supermarkets, that has introduced zero-emission e-cargo bikes. Calling them e-trikes, they are being used for letter and parcel deliveries in Stratford (East London), Cambridge and Sutton Coldfield.
Powered by a combination of pedal, solar, battery and regenerative brake technology, they are being trialled for six months to continue to reduce the organisation's carbon dioxide (CO2) emissions. Once the trial period has ended, Royal Mail will make a decision on whether to expand the e-trikes more widely across the UK.
Will Norman, London's walking and cycling commissioner, said: "I hope this trial will be extended and other delivery companies follow Royal Mail's lead so that many more communities can benefit."
Meanwhile, the Energy Saving Trust is encouraging applications for the new £2 million fund set up by the Department of Transport. The e-Cargo Bike Grant Fund - applicants can benefit from up to 20% of the cost of a new e-cargo bike up to the value of £1,000 per bike - has been launched with increasing interest in electric bikes to facilitate short-distance deliveries.
Matthew Eastwood, head of transport at the Energy Saving Trust, said: "Funding to support the adoption of e-cargo bikes by businesses in England and enable low carbon last mile delivery across the country is a positive step in improving local air quality, tackling road traffic congestion, and reducing transport operating costs."
Simultaneously, the Department for Transport has launched what it claims is the "biggest review of transport in a generation", with technology set to revolutionise the way people and goods move around cities.
The 'Future of Mobility: Urban Strategy Review' in addition to exploring modernising laws from the 1800s that "are providing a barrier to innovation", according to the Government, will also examine how sharing data could improve services by reducing congestion, and how journey planning and payment could be made more simple.
By 2040 traffic on England's roads is forecast to increase by between 19% and 55%, according to the Government, and thus there was an urgent need to reduce congestion and improve air quality including transforming so-called 'last mile' deliveries through the use of electric vehicles and e-cargo bikes and trailers.
The government has additionally launched a competition for up to four new 'future mobility zones', backed by £90 million, to test ideas to improve journeys for people across the country. The West Midlands secured £20 million of funding last year with £70 million now available for three more regions.
With 80% of people in the UK now using smartphones, ideas will include smoother payment systems, better, more up-to-date travel information and the use of innovative forms of transport, making travel in towns and cities more convenient, more reliable and cheaper.
The Strategy says: "Mobility as a Service (MaaS) has the potential to deliver more sustainable transport, improve UK productivity, enhance journey experience and to enable greater social inclusion.
"MaaS platforms require the interoperability of data from multiple service providers, including timetabling and ticketing and pricing data. In this Review, we will examine existing and planned regulatory tools to assist in the opening up of this data specifically to facilitate the socially optimal operation of these platforms."
"Through this Strategy the Government aims to take advantage of these innovations; connecting more people and bringing big benefits we hope for both the economy and the environment."
To find out more about the e-Cargo Bike Grant Fund eligibility criteria, code of practice and application form, click here.