12 February 2020

Government brings forward petrol, diesel and plug-in hybrid car ban but industry raises concerns at 2035 date
The Government plans to end the sale of new petrol and diesel cars and vans from 2035 at the latest - five years earlier than previously announced - to further crackdown on emissions and will include plug-in hybrid vehicles in the ban.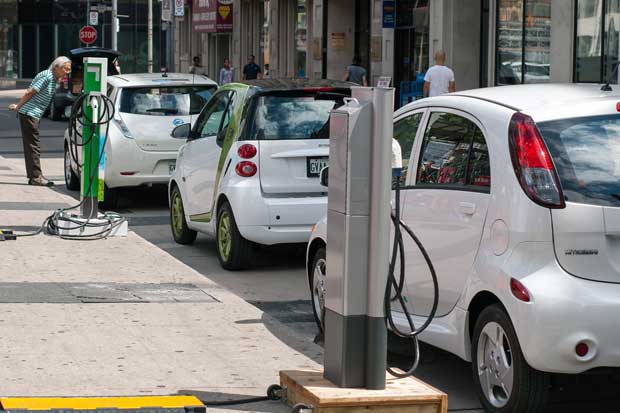 Summary:
New plans would see the date for a ban on new petrol and diesel cars and vans brought forward to 2035
PM has said that this will demonstrate the UK's urgent action to reduce emissions
However, industry has raised concerns over the current demand for electric technology still being a fraction of the sales
However, the announcement has put the Government on a collision course with the UK motor industry, which accused it of "moving the goalposts for consumers and industry on a critical issue" and called for the Plug-In Car Grant, which is scheduled to be removed at the end of March, to be extended as the nation transitions to an electric and hydrogen motor vehicle future.
Prime Minister Boris Johnson announced the expected move - although it is the first time that plug-in hybrid models have been mentioned in the ban - as he launched the next United Nations Climate Conference (COP26), which is due to take place from November 9th-19th in Glasgow.
Subject to consultation, Mr Johnson said the Government planned to bring forward an end to the sale of new petrol and diesel cars and vans to 2035, or earlier if a faster transition was feasible, as well as including plug-in hybrids in the ban for the first time.
Mr Johnson said that the measure "demonstrated the UK's urgent action to reduce emissions" and added that the "Government will continue to work with all sectors of industry to accelerate the rollout of zero emission vehicles".
But Mike Hawes, chief executive of the Society of Motor Manufacturers and Traders, said: "Manufacturers are fully invested in a zero emissions future, with some 60 plug-in models now on the market and 34 more coming in 2020. However, with current demand for this still expensive technology still just a fraction of sales, it's clear that accelerating an already very challenging ambition will take more than industry investment."
Mr Hawes continued: "This is about market transformation, yet we still don't have clarity on the future of the Plug-In Car Grant - the most significant driver of electric vehicle uptake - which ends in just 60 days' time, while the UK's charging network is still woefully inadequate."
The maximum Plug-In Car Grant is £3,500 - there is no definitive date on expiry of the £8,000 Plug-In Van Grant - and Gerry Keaney, chief executive of the British Vehicle Rental and Leasing Association, said: "Fleets will only be able to meet the Government's ambitious new decarbonisation goals if they are given the right support with electric vehicle grants, tax incentives and infrastructure costs."
With the Budget due to be held on March 11, he continued: "Budget 2020 is an opportunity to set the tone for a new decade in which the transition to decarbonised road transport will be won or lost.
"Fleets are being asked to invest billions of pounds in new electric vehicle technology and infrastructure, which comes at a hefty price premium to its petrol and diesel alternatives.
"To achieve these goals the Government must provide a clear support package through to at least 2025. It must preserve the Plug-In Car and Van Grants, maintain a strong set of tax incentives and tackle the huge and often arbitrary costs associated with fleet charging infrastructure."
Caroline Sandall, chairman of fleet operators' organisation ACFO, was similarly critical. She said: "Climate change and air quality are major international concerns, but simply advocating a ban on the sale of petrol, diesel and hybrid cars and vans is far too simplistic.
"It is clear politicians do not live in the real world - a world occupied by businesses employing fleet decision-makers that already typically operate the most technologically advanced and therefore the cleanest vehicles available.
"Fleets are, in the main, in the vanguard of introducing plug-in vehicles and taking action to reduce their carbon footprint, but politicians must make it much easier to switch, and switch quickly. Simply advocating a ban on the sale of internal combustion engine and plug-in hybrid models is not the answer. The Government needs to take control and solve a range of issues that concern fleets."
The RAC, which also called for the Plug-In Car Grant to be extended "for at least another three years" said that a more ambitious Government target "should be the catalyst for faster change", but warned that there were "many hurdles to cross".
The motoring organisation's head of policy Nicholas Lyes said: "Manufacturers face a great challenge in switching their production from conventional powertrains to cleaner electric technology. More electric vehicles will also require a great deal of investment in charging infrastructure - particularly for those who rely on on-street parking outside their homes."
Meanwhile, the Prime Minister's statement continued: "Hosting COP26 is an important opportunity for the UK and nations across the globe to step up in the fight against climate change. As we set out our plans to hit our ambitious 2050 net zero target across this year, so we shall urge others to join us in pledging net zero emissions.
"There can be no greater responsibility than protecting our planet, and no mission that a global Britain is prouder to serve. 2020 must be the year we turn the tide on global warming - it will be the year when we choose a cleaner, greener future for all."
Transport Secretary Grant Shapps said: "This Government's £1.5 billion strategy to make owning an electric vehicle as easy as possible is working - last year alone, a fully electric car was sold every 15 minutes.
"We want to go further than ever before. That's why we are bringing forward our already ambitious target to end the sale of new petrol and diesel cars to tackle climate change and reduce emissions."
Mr Shapps' announced at last year's Conservative Party Conference a commitment to make driving an electric car "the norm" and to look at bringing forward to 2035 the Government's previous commitment to end the sale of new petrol and diesel cars and vans by 2040.
The "more ambitious target" for ending the sale of new petrol, diesel and hybrid cars and vans was welcomed by Helen Clarkson, CEO of the international non-profit The Climate Group, which is campaigning for the 100% adoption of electric vehicles by 2030.
Ms Clarkson said: "We are glad to see a more ambitious target from the Government. However, we believe that this could still be sooner - and that to be a global leader, especially post-Brexit, a 2030 phase-out commitment is required; without this, we risk being out of step with our international peers.
"Our business campaign for the 100% adoption of electric vehicles by 2030, EV100, has 62 corporate members, many of which are British, including AstraZeneca, BT, Centrica, Foxtons, Mitie, RBS, SSE and Unilever. Businesses are showing what is possible and The Climate Group would love to see this level of ambition matched.
"Through EV100, the UK has the second highest number of corporate fleet vehicles committed to switching to electric, after Germany. Government policy must be strong and consistent to accelerate this transition, and to help the UK become a world leader on electric vehicles."
Mr Lyes added: "While electric vehicle take-up is accelerating, high initial purchase prices are still holding sales back. These will inevitably come down as manufacturers bring out more and more electric vehicles. In the short to medium-term we should not, however, overlook the role plug-in hybrid vehicles with cleaner than ever petrol engines could play in bridging the gap to going completely electric.
"In the meantime we urge the Government to extend the Plug-In Car Grant for at least another three years to help those that want to go electric, but who are put off by the high initial costs. At a local level, authorities should also incentivise their use with cheaper parking rates and lower residents' parking permit fees."