7 June 2019

Motor manufacturers work towards hydrogen being the future of electric vehicle mobility
Hydrogen is the long-term future of electric vehicle mobility with plug-in cars and vans providing 'a quick fix' to the ongoing global air quality issue, according to Jon Hunt, manager, alternative fuels at Toyota (GB).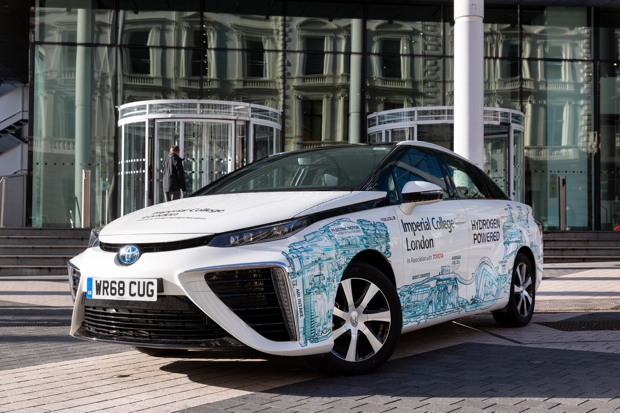 Many in the industry think hydrogen-fuelled cars are the future.
Cars fuelled by hydrogen are emission-free and non-toxic.
The UK aims to have 65 hydrogen refuelling stations by 2020. (There are currently 11.)
---
He was speaking at the recent Annual Members' Conference of the ICFM - the UK's only independent, not-for-profit organisation dedicated to furthering the education and advancement of car and light commercial vehicle fleet management.
And it would appear that many fleet managers agree with him as an end of Conference delegate survey revealed 34% thought hydrogen would be the primary power train in the next 10 years with 46% believing electric battery and the remainder petrol or diesel. That compared with just 11% backing hydrogen in a start of Conference survey.
Presently there are two hydrogen-fuelled cars on sale in the UK - the Toyota Mirai (P11D value £65,945) and the Hyundai NEXO (P11D value £69,440) and they both qualify for a £3,500 Government Office for Low Emission Vehicle grant to help off-set the front-end price. The four-door Honda Clarity Fuel Cell Vehicle can also be spotted on UK roads, but it is being trialled with selected customers and is not officially on sale.
The UK currently has 11 hydrogen refuelling stations with a further five scheduled to open in 2019/20 and an aim to have 65 open to the public by 2020. What's more, at fuel stations such as Beaconsfield Services on the M40, the hydrogen filling station sits alongside the petrol and diesel pumps.
Amid the call by Government for UK fleets and private drivers to adopt plug-in vehicles as the route to cut vehicle emissions and improve air quality, Mr Hunt said vehicle electrification was "essential".
The world's motor manufacturers' are transitioning to ultra-low emission vehicles at varying rates and, as a result, some could face significant fines from regulatory authorities if they fail to meet international standards.
Consequently, Mr Hunt claimed that battery electric vehicles would reduce emissions and were "a quick fix", but significant challenges needed to be overcome including: Vehicle range, battery charge time, vehicle cost, battery life and resources, recycling, infrastructure access and power station emissions.
By contrast, he said, hydrogen had numerous advantages including being emission-free and non-toxic, there was an inexhaustible renewable supply, many sources and it could be stored indefinitely. What's more the energy density of hydrogen would deliver vehicle range efficiency.
Toyota launched its 154 bhp zero-emission Mirai hydrogen car in Japan in 2015 with a range of around 300 miles, a refuelling time of up to five minutes, a top speed of 111mph and a 0-62mph time of 9.6 seconds. It subsequently introduced the car in the UK with 109 models registered to date.
By contrast the 119 bhp NEXO is Hyundai's first bespoke hydrogen fuel cell vehicle and has recently replaced the ix35 Fuel Cell Vehicle. Capable of travelling 414 miles on a tank of hydrogen and with a five-minute fill-up time, the NEXO has a 0-62 mph time of 9.5 seconds and a top speed of 111 mph.
However, while hugely positive about the future of hydrogen as a fuel within the transport sector - not just in cars but also powering HGVs, buses, ships and aeroplanes - Ashley Andrew, Hyundai Motor UK's managing director, wrote in a recent blog: "We're still in the early days of this technology; we need more refuelling stations to make it mainstream."
But, while Mr Andrew believes hydrogen will become "mainstream" in the vehicle sector, he added: "For the next decade at least [it will be] a transitional period for all fuel choices."
He continued: "With a mix of renewable energy and clean hydrogen we have the perfect solution for a pollution-free future; whether that's domestic or industrial. I've got an insight into hydrogen technology that many people might not have and to me, it's the future."
A hydrogen vehicle emits only water vapour and, according to Mr Andrew, the fuel can be created on-site at fuelling stations from renewable energy thus putting an end to tankers transporting petrol and diesel and emitting toxic fumes as they travel from forecourt to forecourt.
At the Advanced Manufacturing Park, close to the M1 in South Yorkshire, ITM Power, a specialist in manufacturing hydrogen energy systems, has launched a hydrogen refuelling station where a wind turbine provides power for an electrolyser, which in turn splits water into hydrogen and oxygen, then stores the hydrogen ready to refuel a passing fuel cell vehicle.
Meanwhile, although the Mirai costs almost £66,000 today that price tag equates to a 95% drop when compared with the price of the prototype. By the mid-2020s a range of hydrogen fuel cell vehicles are likely to be available from Toyota at different price points with whole life costs similar to internal combustion engine vehicles, according to Mr Hunt
He concluded his ICFM Conference speech by saying: "Toyota has a clear vehicle roadmap and it is not about one vehicle type. Battery electric maybe suitable for small vehicles, but hydrogen fuel cell will be the solution for higher duty vehicles and those travelling high mileages. The transition to full electric power trains will take up to 30 years and will go through hybrid and plug-in hybrid, but hydrogen fuel cells are the future powertrain for electric vehicles."
Motor manufacturer research and development costs into new fuel technology are huge and increasingly partnerships - and even mergers - are taking place to offset some of the financial burden. Recently, for example, Hyundai agreed a fuel cell cross-licensing partnership with Audi which allows the German marque access to the Korean brand's fuel cell components and supply chain.
That could clearly speed up hydrogen car availability and demand with Mr Andrew saying: "The more hydrogen cars that are being built, the quicker the infrastructure will develop."