7 December 2018

New signs warn of imminent arrival of London ULEZ amid van non-compliance fears
More than 300 signs warning of the April 8, 2019 introduction of an Ultra Low Emission Zone in central London are being installed by Transport for London (TfL).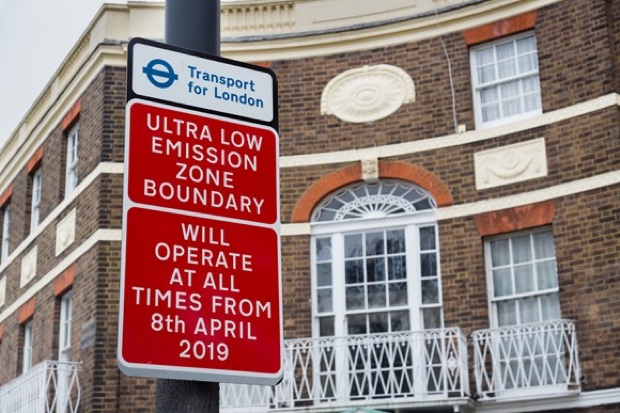 What is the ULEZ?
From April 2019, anybody travelling within London's current Congestion Charging Zone will need to meet new, stricter emission standards or pay a daily charge.
Why does this matter for van drivers?
It's estimated that 80% of vans on the road will not meet the new ULEZ standards. Businesses and van drivers need to future-proof their commercial fleet to ensure their vans are compliant.
---
The signs, which are being installed at the same locations as existing Congestion Charge signs, warn drivers at all entry points to the Zone, and on a number of key approach routes, to ensure their vehicle meets the tough new emission standards that come in to effect next year.
Installation of the signs is part of an extensive communications campaign being run by TfL to prepare drivers for the ULEZ. It has included contacting registered Congestion Charge users whose vehicles do not meet the ULEZ standards.
To discourage the use of the most polluting vehicles, drivers travelling within the Zone and using non-compliant vehicles, will need to pay a daily ULEZ charge of £12.50, 24 hours a day, 365 days a year. They include:
Motorbikes that do not meet Euro 3 standards (roughly the equivalent of not being more than 12 years old in 2019)
Petrol cars and vans that do not meet Euro 4 standards (roughly the equivalent of not being more than 13 years old in 2019)
Diesel cars and vans that do not meet Euro 6 standards (roughly the equivalent of not being more than four years old in 2019)
Buses, coaches and lorries will need to meet or exceed the Euro VI standard or pay £100 a day
While there is widespread agreement that most company cars will be compliant with Zone entry standards, there is concern that many fleet vans will require upgrading.
Indeed, at a recent event hosted by the British Vehicle Rental and Leasing Association and TfL to explore the impact of the ULEZ on van users in the capital, James Davis, customer strategy and insight director (commercial vehicles) at vehicle remarketing giant Cox Automotive UK, said: "The biggest challenge for commercial vehicles is the age of vehicles which are on the road right now.
"Our calculations show that about 80% of vans on the road would not be compliant in a ULEZ. It's important for an operator to think about futureproofing themselves by buying or changing their ownership model to get themselves into a Euro 6 van."
Nick Fairholme, director of project and programme delivery at TfL, said: "These new signs will be a physical reminder that the ULEZ is coming."
For information or advise about the London ULEZ introduction, contact us today.