4 February 2019

Popular fleet cars at risk from keyless attack as vehicle theft rises
Some of the UK's most popular fleet cars are among those most susceptible to keyless theft - also known as relay attack - that has become a popular modus operandi for thieves in recent years.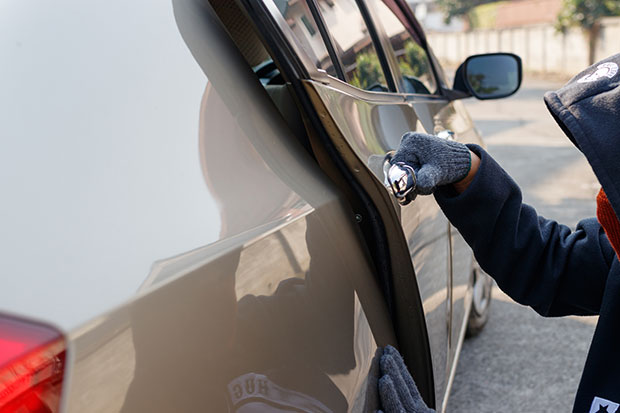 How does is relay car theft (keyless theft) work?
Criminals stand close to the victim's house and pick up signal from the car's key fob.
The signal is then transmitted to another device which is placed near the car.
The car's sensors think the key is nearby and opens.
The car can then be started using the stop/start button and driven away.
Who is affected?
Any car which has keyless entry is vulnerable to this form of attack. A study has revealed that the most popular company cars (Ford Fiesta, Volkswagen Golf, Nissan Qashqai and Ford Focus) are susceptible to keyless theft.
More details
The revelation from research by consumer champion Which? comes at the same time as government figures reveal that car theft increased by 16% in 2017/18 with 106,334 vehicles stolen in England and Wales, up from 91,354 thefts in 2016/17. The latest figures also mark a significant rise in recent years, up from a low of 70,053 thefts in 2013/14.
The most 'at risk' areas for car theft are: the West Midlands, London, Greater Manchester, West Yorkshire, South Yorkshire, Leicestershire, Northamptonshire, Bedfordshire, Warwickshire and Merseyside.
The Which? study of research from the General German Automobile Club (ADAC), which tested 237 keyless cars and found all but three of them - the Land Rover Discovery and Range Rover and the Jaguar i-Pace - were susceptible to the relay attack, including four of the UK's five best-selling cars.
All popular company cars they were the Ford Fiesta, Volkswagen Golf, Nissan Qashqai and Ford Focus. Only the Vauxhall Corsa among the UK's five top-selling cars was deemed safe from such attacks, because it was not available with keyless entry and start.
More than 30 motor manufacturers sell 'insecure' cars, according to the analysis, including Audi, BMW, Honda, Hyundai, Kia, Mercedes-Benz, Peugeot, Renault, Skoda, Toyota and Volvo. See the full list here.
Which? said that car makers had sacrificed the security of scores of modern cars for the sake of convenience. Furthermore, with the number of cars being stolen on the rise, it demanded that manufacturers did more to make their cars more secure.
Harry Rose, editor of Which? Magazine, said: "With more than one car being stolen every seven minutes, it's important that people can feel confident in the security of their vehicle. The fact that so many cars on the road are susceptible to keyless theft simply isn't good enough. We want manufacturers to up their game when it comes to making their vehicles safe from theft."
Vehicle tracking company Tracker said that 88% of all stolen vehicles it recovered in 2018 were stolen without using the owner's keys - confirming that keyless theft was not just a threat, but a very harsh reality.
Clive Wain, head of police liaison at Tracker, said: "Car theft is much lower than it was 30 years ago, but it's on the rise again, with some pointing the finger at keyless technology. This is supported by our own data.
"Vehicle security should be multi-layered and shouldn't just rely on a keyless security system. Traditional physical barriers, such as crook locks and wheel clamps can help deter thieves, but in the event of a car being stolen, vehicle tracking technology plays a powerful role in outwitting thieves. Investing in a tracking device won't stop a car being stolen, but it can significantly increase the chances of police locating it and returning it to the rightful owner."
Motor manufacturers typically told Which? that they took car theft seriously and that they were constantly looking for ways to make vehicles more secure.
Additionally, as of January 2019, new cars should start to be better protected thanks to new criteria in the New Vehicle Security Assessment. Richard Billyeald, chief technical officer at Thatcham Research, the UK body responsible for vehicle safety and security, said: "The new criteria will highlight the additional risk of vehicles susceptible to these attacks, and incentivise carmakers to introduce measures that secure their vehicles against electronic compromise."
To seal cars without a key, thieves use so-called 'relay' boxes - one near a car and the other near where the car key is kept. That has the effect of lengthening the signal produced by the key, fooling the car into thinking the key is close by. The thieves can then open and start the vehicle, and drive it away.
Top tips to protect cars from theft:
Consider where car is parked at night, when cars are far more likely to be stolen. If not parked in a locked garage, consider investing in CCTV for a driveway or park in a well-lit area on the street.
Double check car doors are actually locked when using the remote-locking button on the key, in case thieves are trying to block the signal from the remote.
Always keep the car key out of sight at home and as far away from the front door as possible. If a keyless car, consider buying a metal case for the key fob as that can block the signal produced by the key. But be aware that the key needs to be completely surrounded by a metal layer, without even the slightest gap, to be protected from the relay attack.
Contact the car's manufacturer to find out if any extra steps can be taken to protect a specific model.
Never leave valuables in plain sight, even only going to be away from the car for a short time.
Invest in a steering wheel lock. Even cheap ones will act as a deterrent, but a lock accredited by the police security initiative Secured By Design will be much harder for thieves to break - they cost around £120.
Source: Which?
For more information and tips on protecting your car contact us today.