6 July 2015

Van drivers and fleet managers must face up to vehicle overloading problem
Almost 50% of van drivers, equating to more than 1.2 million vehicles, are driving overloaded light commercial vehicles on UK roads, according to new research.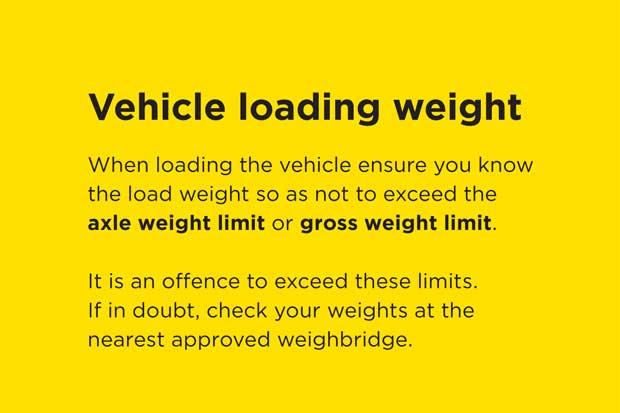 The Driver and Vehicle Standards Agency (DVSA) has frequently highlighted the potential dangers to driving overloaded vehicles and the associated cost management risks.
Last year, the DVSA stopped more than 10,800 vans on UK roads and found 89% to be driving overloaded.
Now Volkswagen Commercial Vehicles is working alongside the DVSA to highlight the dangers and risks and has published an online guide, which includes information on vehicle payloads and locations of public weighbridges. It is accessible at www.volkswagen-vans.co.uk/vehicle-overloading.
Businesses, it is suggested, can face thousands of pounds in unforeseen costs due to the increased pressure from overloading on a vehicle; resulting in higher maintenance costs in the long-run.
Overloading can impact on a van's driving performance and lead to increased stopping distances, difficulty in steering and potentially tipping over. It will also cause excessive wear and tear to a van affecting tyres, suspension and brakes.
Another impact to businesses is the issue of insurance if a company's vehicle is involved in an accident. Research showed that 75% of the fleet managers surveyed did not realise insurance could potentially be invalidated if a company vehicle was involved in a crash and found to be over its legal weight limit.
In fact companies can face steep penalties for failing to comply with the legal weight limits of their vehicles including fines, immobilisation of the vehicle and in severe cases a court summons. Additionally, drivers will receive penalty points on their licence.
The penalties for overloading are: Vehicle overweight by 5–10% = £100 fine; vehicle overweight by 10–15% = £200 fine; vehicle overweight by 15–30% = £300 fine; more than 30% = court summons; immobilisation of vehicle and £80 fines; invalidated insurance if the vehicle is involved in an accident.
Gordon MacDonald, vehicle product manager at the DVSA, said: 'The research highlights that a large proportion of van drivers could be breaking the law and posing serious safety risks to themselves and other road users. Overloading is a real issue on our roads and it is the responsibility of both the driver and the business to load vehicles correctly and keep their van within its legal weight limit.'
The research showed that 73% of van drivers questioned were unsure of the effects of overloading their van on the vehicle's driving performance, whilst nearly a quarter were unaware of the legal penalties they faced if stopped on the road.
Trevor Hodgson-Philips, head of service and parts at Volkswagen Commercial Vehicles, said: 'It's important that businesses choose the right van for the job to avoid unnecessary overloading. Typical cargo volume and knowledge of gross vehicle weight should be taken into consideration before setting off to ensure the safety of the driver and other road users.
'An overloaded vehicle can cause huge costs to businesses. Consistently driving with too much weight in a vehicle will put increased pressure on tyres and suspension causing them to wear out more quickly. By investing in the right size van in the first place, businesses can save thousands by avoiding unnecessary fines and repair costs.'