28 September 2018

vGroup international joins war on plastic with new tablet vehicle screen wash
vGroup International, a supplier to Activa Contracts, has joined the global war on plastic with the launch of a new tablet form of vehicle screen wash.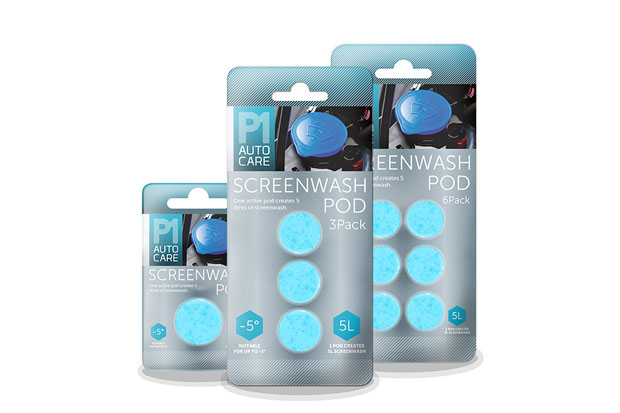 Instead of drivers typically buying five-litre bottles of screen wash or 500ml of concentrate, the UK's leading provider of motor accessory essentials, has launched a tablet that when mixed with water makes up to five litres of the liquid.
The blue raspberry smelling tablets, teal blue in colour, have been launched as part of vGroup International's vehicle winter pack for fleets, which also contains an ice scraper and Chlorofluorocarbon-free (CFC) de-icer. However, the tablets are also available in single pod, three-pod or six-pod blister packs.
Individually costing no more than the price of either screen wash or the concentrate, vGroup International chairman Martyn Nash said the new screen wash tablet, which is already advocated by BMW and Nissan in Germany and their franchise dealer networks, was one of the company's environmentally-friendly answer to reducing the consumption of plastic bottle screen wash and concentrate.
Mr Nash said: "We are in talks with all the major motor manufacturers and vehicle importers in the UK market and we anticipate they will take delivery of the tablets. Similarly, we anticipate all our fleet and contract hire and leasing company customers will migrate to the tablet screen wash. We are also in conversation with leading retailers that we supply to stock the tablets.
"Not only do the tablets save considerable storage space, but advocating their use is good for the environment and good PR for businesses. It is a no-brainer."
Some 100 million plastic bottles of screen wash are consumed annually by UK motorists - that's two million plastic bottles per week or an astonishing 285,000 per day - potentially ending up in landfill, being incinerated, or making their way into seas and oceans.
Furthermore, the plastic bottles of screen wash are delivered to UK retailers and garage forecourts on 625,000 pallets, using eight million litres of fuel and two million tonnes of associated additional packaging.
Introduction of tablet screen wash, which does not freeze when temperatures are above -5 degrees centigrade, comes amid a UK government and, indeed, global focus on reducing the environmental impact of plastic.
Earlier this year, the government put forward a 25-year plan that aims to "set the global gold standard" on eliminating plastic. It wants to encourage industries to take greater responsibility for the environmental impact of their products, and for making them easier to recycle. Additionally, dozens of companies have signed the UK Plastics Pact, which aims to eliminate unnecessary single-use plastic packaging by 2025 with targets to make 100% of their plastic packaging reusable, recyclable or compostable and to ensure 70% was effectively recycled or composted.
With vGroup International launching its screen wash tablet at a time when the government is backing environmentalists in the war on waste plastic, Mr Nash said: "Every business and organisation, whether part of the supply chain like vGroup International or an end-user such as fleet operators and company car drivers should do their bit to care for the environment. If all drivers use screen wash tablets the impact on ridding the world of millions of plastic bottles would be massive."
A report by the House of Commons Environmental Audit Committee published late last year suggested that in the UK 13 billion plastic bottles were used every year with 7.5 billion ending up in landfill, being incinerated, or making their way into oceans, accounting for a third of all plastic pollution in the sea.
Additionally, the Marine Conservation Society reported that its annual beach clean in 2017 found there had been a 10% rise in plastic pollution on Britain's beaches, in the previous 12 months.
The UK government's use of plastic crackdown includes plans to ban the sale of plastic straws, drink stirrers and plastic-stemmed cotton buds and a call from Prime Minister Theresa May for Commonwealth countries to sign-up to the recently-formed Commonwealth Clean Oceans Alliance and take action on plastics. The government has already introduced a 5p plastic bag charge, which has led to nine billion fewer bags distributed , and banned the use of microbeads, microplastics that could previously be found in everyday items like toothpaste, face wash, and body scrub.
Environment Secretary Michael Gove has said: "Single-use plastics are a scourge on our seas and lethal to our precious environment and wildlife so it is vital we act now. We've already seen a number of retailers, bars and restaurants stepping up to the plate and cutting plastic use, however it's only through government, businesses and the public working together that we will protect our environment for the next generation - we all have a role to play in turning the tide on plastic."