9 November 2017

Activa Contracts backs Lightfoot's Fleet Manager of the Week initiative
Activa Contracts is sponsoring a new Fleet Manager of the Week initiative launched by partner company Lightfoot – the provider of sophisticated in-vehicle driver behaviour technology.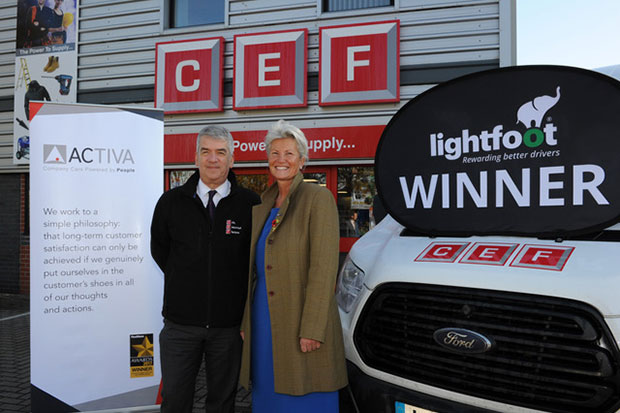 Lisa Temperton, Activa Contracts' sales and marketing director presented the inaugural award to Ian Thorn, fleet manager of CEF, handing over his prize of an Amazon Firestick.
Ms Temperton said: 'We are delighted to be sponsoring Lightfoot's Fleet Manager of the Week initiative. Lightfoot consistently stays up to date with the ever-changing market, placing drivers, fleet operators and insurance companies at the forefront. The initiative is just another example of Lightfoot setting itself apart as it continues to deliver a first class, proactive service to our mutual clients.'
The Fleet Manager of the Week initiative rewards fleet managers for the positive impact they have in ensuring that their drivers behave safely behind the wheel. While Lightfoot's focus is normally on the drivers – who have a significant impact on the cost and efficiency of fleet operations – the role of fleet managers is clearly vital as well.
A good fleet manager can make a huge difference across the board and help to ensure a safe and efficient fleet of drivers. That is why Lightfoot works closely with managers, to ensure they understand its technology and know how to get the best out of it, so they can, in turn, make sure their drivers are engaged and behaving well on the road.
Lightfoot is a key tool for Activa Contracts not only to help fleet managers meet occupational road risk management obligations, but to cut overall operating costs. The in-vehicle option has the ability to cut fleet accident rates by up to 60% and fuel bills by as much as 20%, while reducing vehicle wear and tear, insurance premiums and carbon dioxide (CO2), emissions.
In addition, Lightfoot also provides a vehicle tracking option. It enables fleets to track their assets, optimise their operations and keep their personnel secure.
Lightfoot technology is part of Activa Contracts' suite of vehicle and driver risk management solutions available to customers.
Mr Thorn has been a strong advocate of Lightfoot since its installation into CEF's vehicles and has ensured that it has been fully adopted as part of the company's culture, which is undoubtedly a big part of why it's been so successful.
He said: 'Lightfoot is an innovative technology that continuously provides amazing benefits to CEF. I am thrilled to have been awarded the first ever Fleet Manager of the Week Award and anticipate the progress this exciting initiative is going to make. I look forward to a continued partnership with Lightfoot to help further encourage and reward good driving in our fleet.'
Lightfoot managing director Mark Roberts said: 'We are pleased to be awarding CEF fleet manager Ian Thorn with an Amazon Firestick. He has actively championed Lightfoot from the beginning, resulting in his fleet continuously hitting their targets.'
Mr Thorn has donated his prize to Robert Sheppard, a fleet manager from Torquay Group, one of CEF's depots based in Devon, which, said Mr Roberts, further demonstrated his 'generosity and commitment to maintaining CEF's high standards'.