1 August 2016

Arnold clark tees it up with 60-strong fleet for world's top golfers at 2016 women's british open championship
One of the UK's largest vehicle providers, Arnold Clark Car & Van Rental, has provided a fleet of 40 Audi A6 Avant models, for use by competitors and officials at this week's Women's British Open Golf Championship.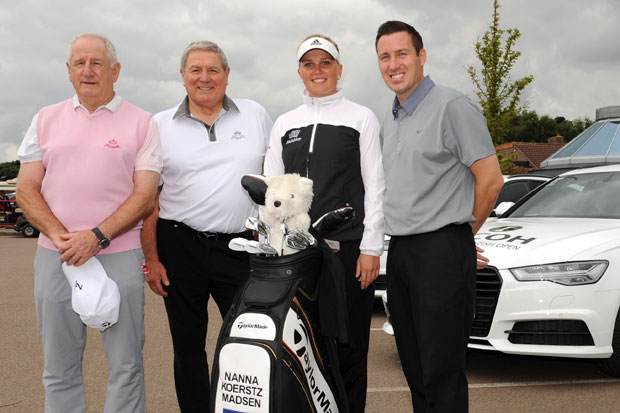 Taking place over four-days, from Thursday 28th July to Sunday 31st July at Woburn Golf Club, the all-white liveried car fleet is being used by some of the world's leading female golfers and tournament officials.

Additionally, Arnold Clark Car & Van Rental has supplied a fleet of 20 minibuses and light commercial vehicles for use by golfers and officials around the Woburn complex and to and from the Marquess course on which the tournament is being played.

The Ricoh-sponsored 2016 event has attracted 144 of the world's top female golfers and at this week's pre-championship pro-am, Ian Hill, Managing Director of Milton Keynes-headquartered Activa Contracts, a sister business to Arnold Clark Car & Van Rental, hosted a fourball.

Mr Hill's team comprised Chris Connors, Facilities and Fleet Manager at Countryside Properties, one of the UK's largest property development companies and a long-time Activa Contracts customer; Maurice Howkins, Vauxhall Motors / Opel European Corporate Sales Director and Fleet Sales Customer Relationship Director; and top professional golfer Nanna Koerstz Madsen. Earlier this year the Danish golfer, who turned professional in 2015, won the Ladies' European Tour Tipsport Golf Masters in the Czech Republic.

The Activa Contracts team finished in the top ten at the pro-am, which saw 36 teams compete on the Marquess course. Shot of the day went to Mr Howkins who, with an eight iron on the par three 8th, notched a hole-in-one, the only ace of the day, to win a bottle of champagne.

Mr Hill said: 'It was a fantastic day. The course was in superb condition and the weather was perfect. Maurice's hole-in-one was definitely shot of the day. Nanna is a fantastic golfer, was very supportive and she and her caddie answered all of our questions; she is a very talented young golfer and definitely one to look out for as her career progresses.'

Arnold Clark Car & Van Rental, which also has an office in Milton Keynes, is in the second year of a three-year official car sponsorship deal for the event with IMG, the world's largest sports marketing company which stages the championship in conjunction with the Ladies' Golf Union. Arnold Clark Car & Van Rental, like Activa Contracts, is a division of the Arnold Clark Group, Europe's largest independently-owned vehicle dealer group.

Mr Hill said: 'We are delighted with the sponsorship arrangement. The tournament is providing great visibility for the Arnold Clark brand and all of our vehicles. Last year the business provided vehicles when the tournament was held at Turnberry and next year we look forward to providing the fleet when the championship is held at Kingsbarns in Scotland.'

Woburn Golf Club first hosted the Women's British Open Championship in 1984 and has since hosted the tournament on nine occasions over The Duke's Course, returning firstly in 1990 for seven consecutive years and again in 1999. This year's championship, which is being covered live by the BBC on all four days, is being played on the Marquess course for the first time.

The 2016 Ricoh Women's British Open marks the 10th staging of the event at Woburn but the first as a major championship having become an official LPGA (Ladies' Professional Golf Association) major in 2001.

Activa Contracts is a division of the Arnold Clark Group, Europe's largest independently-owned vehicle dealer group.

Activa Contracts was established in 2000 from within the Scotland-based Arnold Clark leasing business to build a stronger presence in England and Wales.

From its headquarters in Milton Keynes, Activa Contracts offers a comprehensive range of fleet funding solutions and a full range of fleet management services.

For further information, contact Activa Contracts Sales & Marketing Director Lisa Temperton on 01908 288400.