22 March 2019

Ashes-winning England cricket captain motivates Activa Contracts' employees to be 'one team'
Ashes-winning England cricket captain Michael Vaughan has used his 'one team' motivational talk to inspire Activa Contracts' employees.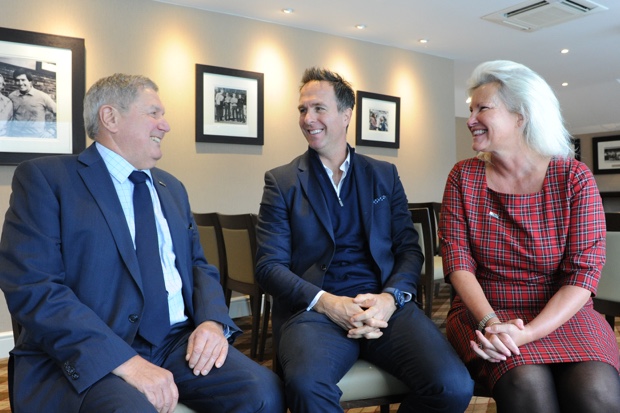 Michael, who led England to the nation's 2005 Ashes triumph over Australia having taken over the captaincy in 2003, passed on his experience of team work to the Milton Keynes-based vehicle leasing and fleet management company's more than 50 employees.
It was the first in what is to be a series of motivational 'one team' initiatives by Activa Contracts to ensure top class performance is delivered across the business.
Highlighting that he led an England cricket team that combined "solid reliable, dependable, disciplined people with mavericks and firecrackers who when you wanted to win would put their hand up", Michael said in sport and in business it was critical that individuals knew the role they were there to perform and how they fitted into the team ethic.
The England cricket team had not beaten Australia for almost two decades until winning the Ashes in 2005 and he said: "To get to the next level it is important to identify the competition, match them, put them under pressure, gamble and take risks. Too many teams look at the past too much.
"Good teams look ahead and see that times are changing and try to be ahead of the curve. Be proactive and not reactionary and the mavericks in the group will identify where the future is. While it is about the here and now and looking after today, great teams have a vision and can look into the future. It is the same in business as in sport, but above all else it is about having the talent to deliver and managing that talent.
"My philosophy as captain was always geared to developing individuals. I wanted to drive individuals and then drive the team, but too many people do it vice-versa."
Identifying that in cricket it was vital to "play the cricketer and not the person", Michael (44) said it was equally important to remember that in business a rival was only another organisation.
He continued: "As much as it is about being young and fearless, teams need to mix in experience. It is important to have a strategy to help achieve targets, but it is important not to be fearful of making mistakes and not achieving.
"Managers talk about having a strategy, but they don't know the people they are managing. Managers need to get to know the person and what motivates them because if they don't know the person it is very difficult to manage them. As a leader I wanted to know everything that triggered an individual into a performance mode."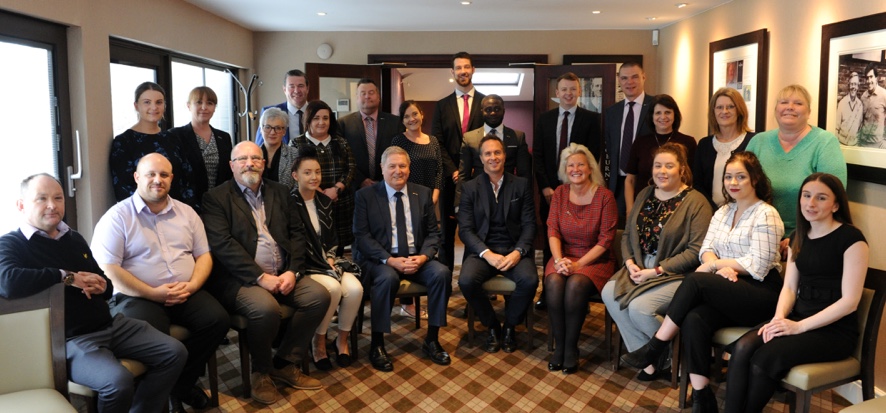 Now a cricket commentator and writer, the former frontline Yorkshire and England batsman eventually retired from all forms of cricket in June 2009 through injury. During his career he was ranked the world's number one Test batsman and captained England in 51 Tests between 2003 and 2008, winning 26 (a national record). He played a total of 82 Test matches and 86 One Day Internationals for England and during his first class career scored more than 16,000 runs.
Michael, who appeared on BBC Television's 'Strictly Come Dancing' in 2012, said: "It is impossible to be great all the time, but it is important to have the ambition to be great. But, too many people try to look for the winning element without looking after process. It is important to cover the basics."
Ian Hill, managing director, Activa Contracts, which has more than 7,000 company cars and vans on its books, said: "At Activa Contracts we are focused on being one team irrespective of which department employees may work in.
"Businesses employee people with different skill sets, for example in the case of Activa Contracts, sales, operations, administration, accounts etc. That is true of team sports and in cricket there are batsmen, bowlers, wicket-keepers and world class fielders - different disciplines but all critical to team success.
"Whether in business or sport it is crucial that people do not have a bunker mentality and only focus on themselves. While being passionate about their own work and their job and performing to the best of their ability, it is vital that employees see the bigger company-wide picture and understand how what they do fits in to overall individual and corporate success.
"During his career Michael was excellent at getting the best out of competitive cricketers with different skill sets and personalities so that they all played as one team with great success at international level. It is that discipline that we want to have at Activa Contracts."