2 May 2016

Demand for new vans at record levels, while operators are urged to focus on safety
The number of vans on Britain's roads has hit an all-time high of four million, according to Motorparc data from the Society of Motor Manufacturers and Traders (SMMT) released to coincide with the Commercial Vehicle Show.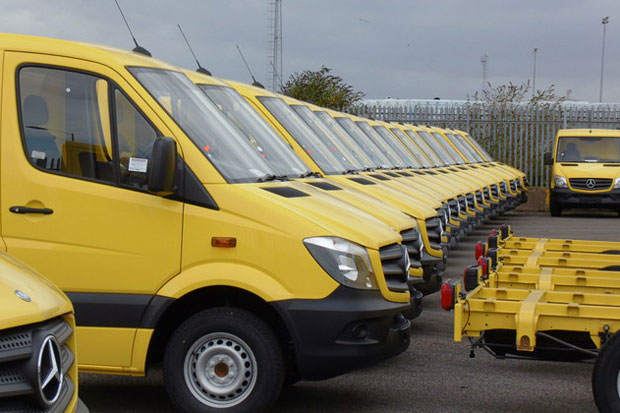 A total of 4,007,331 vans are in use on UK roads, a 4.3% increase since the previous year. Following a bumper 2015 which saw more than 370,000 units registered, registrations grew 1.2% in the first quarter of 2016.
Sustained business confidence and the continuing surge in demand for online deliveries have been key to stimulating this growth, according to the SMMT.
Mike Hawes, SMMT Chief Executive speaking at the Show which ended yesterday (Thursday, 28 April), said: 'Commercial vehicles have never been more important to the British economy, transporting vital goods and services using the latest low emission technology.'
Commenting on the figures, Mark Cartwright, the Freight Transport Association's Head of Vans, said: 'This further demonstrates the continued growth of vans and their importance to the UK economy in supporting online and entrepreneurial activity.
'However, with great power comes great responsibility, and it is incumbent on operators of all sizes and sectors to ensure that they operate their vehicles in a safe, compliant and efficient manner.'
The FTA's Van Excellence programme, an industry-led scheme launched in 2010, exists to help operators achieve that goal by sharing good practice and assisting them to demonstrate high standards. The initiative is supported by Activa Contracts, which is a scheme 'recognised partner'.
Van Excellence has more than 100 members and now a Small Fleet Programme has been launched for operators with 10 or fewer vans. It will share advice and first-rate operational procedures from the top performing fleets.
Mr Cartwright said: 'Small fleet operators wanted an affordable scheme like Van Excellence to help them maintain high standards and stay up-to-date with current laws and best practice.
'Being a member offers unrivalled support and information to run a safe, legal and efficient fleet.'
Membership of the programme includes access to online fleet management software, electronic versions of FTA's 'Guide to Van Excellence', monthly email updates and support from FTA's Member Advice Centre. Operators can choose to undergo an audit and be assessed against industry standards to become a Van Excellence Accredited Operator.
New vans are inevitably equipped with the very latest safety technology features, but there are also warnings that such advances could be undermined by dangerous overloading.
Almost nine in 10 (88.5%) of the 2,381 vans weighed last year by the Driver and Vehicle Standards Agency (DVSA) were found to be overloaded, a worse record than the previous year in which 84% of the 3,337 checked were illegal.
Around a quarter of vans currently on sale in the UK are available with advanced collision warning systems, while three new models launched at the Commercial Vehicle Show featuring autonomous emergency braking for the first time.
But for all the benefits advanced safety technology brings, an overloaded or poorly loaded van can still pose a risk to its driver and other road users, adding vital metres to braking distances and affecting handling.
Mr Hawes said, 'It is a concern that this in-use safety record remains so poor. Manufacturers are investing significant amounts in new safety technology, but this can only do part of the job. We continue to urge operators and owners to comply with the law to keep themselves and others safe, avoid the risk of fines and keep the threat of further legislation at bay.'
While anyone operating an HGV is subject to strict rules under the Operator Licensing regime, it does not apply to vehicles under 3.5 tonnes – the vast majority of vans.
To ensure there is no move to extend Operator Licensing to vans – at a potential £2.6 billion in extra costs for operators – the SMMT says it is keen to see the safety record improve.
Gordon Macdonald, DVSA Compliance Service Manager, said: 'Overloading continues to be a real issue on our roads, and drivers and businesses need to carefully consider their legal responsibility towards vehicle weight compliance.'