26 April 2019

Ford fights back with added protection in keyless car theft battle as vehicle security ratings system is launched
The UK's number one fleet manufacturer, Ford, is fighting back against the growth in keyless car theft with the roll out of new security technology.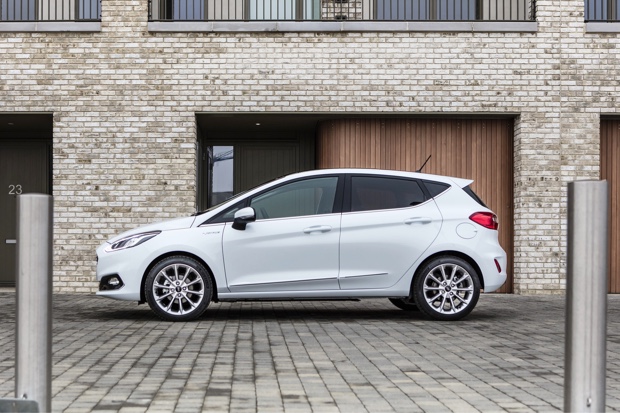 The Fiesta and Focus now have keys with special 'sleep-mode'.
How do the new keys work
Deactivates keyless entry if the sensor doesn't detect movement for more than 40 seconds.
Becomes fully functional again as soon as the driver picks it up again.
Only functional within two metres of the car.
---
The UK's two top-selling cars, the Ford Fiesta and Focus are the first to benefit from the technology which disables their keyless entry fobs when not in use to block illegal hacking. Over the next two years Ford will be rolling out the same motion-sensor technology across its other cars' key fobs.
The development comes as new car security tests that provide fleet operators and company car drivers with information to help understand their likely theft risk have been launched by Thatcham Research, the motor insurance industry research centre.
The first 11 new cars have been rated under the New Vehicle Security Assessment. The Audi e-tron, Jaguar XE, Land Rover Evoque and Mercedes-Benz B-Class each received a 'superior' rating; six cars tested were rated 'poor' - the Ford Mondeo, Hyundai Nexo, Kia ProCeed, Lexus UX, Porsche Macan and Toyota Corolla Hybrid - and the Suzuki Jimny was given an 'unacceptable' rating. The five rating system means that new cars could also be rated 'good' or 'basic' for their security.
The new ratings assess whether measures to specifically address the keyless entry/start vulnerability, have been adopted by motor manufacturers.
Cars were given a 'poor' rating as the keyless entry/start system they each have as an option has no security measures to prevent theft by criminals using the so-called 'relay attack' technique, while the 'unacceptable' rating was due to the Suzuki Jimny not having keyless entry/start system as standard or as an option.
Keyless entry fobs of all makes of cars are being targeted by thieves with relay box equipment, usually used to extend the signal from fobs in homes to unlock and start vehicles parked outside
Thatcham Research has administered the Association of British Insurer's Group Rating insurance system for cars and light commercial vehicles the past 50 years and has crash tested vehicles as a member of the European New Car Assessment Programme (Euro NCAP) for many years.
Euro NCAP data has become a key part of vehicle selection criteria for fleets in the past two decades and Thatcham Research hopes that launch of the New Vehicle Security Assessment will similarly be widely adopted. The focus put on Euro NCAP crash test results by fleet operators and consumers led to motor manufacturers designing safety features into vehicles to ensure they achieved top ratings.
Ford has introduced a new motion sensor inside the key fob that detects when it has been stationary for longer than 40 seconds and triggers a sleep mode, which will not respond to attempts to hack its signal via a 'relay box' or through the misuse of other specialist equipment.
Moving the keyless fob by picking it up inside a home and taking it to a car will restore full functionality by the time Fiesta and Focus drivers approach their cars. Ford fobs are designed to operate only within a two-metre radius of the cars they are bonded to.
Britain's best-selling car, the Fiesta, plus the Fiesta Van version, are already being delivered with the new fobs as standard at no extra cost, followed by Focus production from next month (May).
Simon Hurr, Ford security specialist, said: "The online availability of devices which have no place in public hands has long been a problem for Ford, our industry and crime fighters. We are pleased to respond with a simple but effective solution - swiftly implemented to help protect owners of our top-selling cars."
Latest Fiesta and Focus models can have security upgraded with replacement fobs, priced from £65 (Fiesta), £72 (Focus) plus 0.9 hours labour to programme and test. The upgrade is available to owners of the current Fiesta, which has been on sale for two years, and of the Focus introduced last year.
Commenting on the breakthrough by Ford, Richard Billyeald, chief technical officer at Thatcham Research, the motor insurance industry research centre, said: "This is great news for car owners and the wider automotive industry. There is a known weakness in keyless entry systems, and we are pleased that Ford has come up with a simple and effective response on these big-selling models. We hope that other car makers will respond in a similar fashion."
In reference to the four cars that received a 'superior' rating under the New Vehicle Security Assessment regime, Mr Billyeald said: "These carmakers have made significant strides in addressing keyless entry/start vulnerability, by either switching to a more secure wireless technology or introducing key fobs that go to sleep when idle. This demonstrates that there are solutions and fixes to the problem, which we expect other manufacturers to include on their future models."
Top Ford security tips are:
Check for visual cues to confirm the car is double locked (after a double click of the lock button on your remote) as you walk away. The indicators flash as the alarm is set and in some cases wing mirrors fold in as permanent confirmation that the car is secure.
Do not store keyless entry fobs just inside your front door within close range of a car parked outside. Fobs without new sleep mode should be stored further away, in a suitable metal box or shielded pouch.
Ford dealer checks every time a car is serviced for any security software upgrades or other recommended modifications. It is important to visit a dealer, especially with an older car, to receive outstanding updates.
For more information about vehicle protecting your fleet for keyless entry theft, talk to us today.