15 October 2015

Take the 20p tyre test to stay safe and legal on the roads
When did you last do it? Ideally, the response will be at least once a month and before long journeys.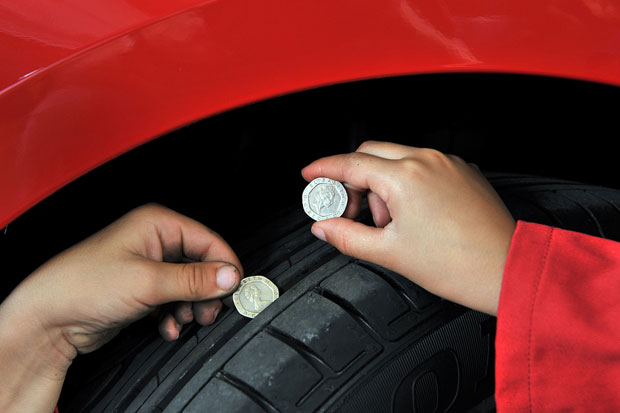 October is Tyre Safety Month and, with support from fire and police services, Highways England, road safety organisations, and car, van and tyre manufacturers and retailers, drivers are being urged to regularly check air pressure, condition and tread depth.
Organised by not-for-profit campaign group TyreSafe, newly published Department for Transport figures are being used to highlight the importance of driver tyre checks.
The Department's 'Reported Road Casualties Great Britain: 2014 Annual Report' reveals road deaths and injuries attributed to all classifications of vehicle defects increased to 3,230 last year; deaths and all injuries in accidents caused by tyre-related defects increased to 1,125; and the number of motorists killed or seriously injured in accidents caused by tyre-related defects increased to 224.
Over the past five years, in accidents attributed to vehicle defects, defective tyres have been the largest single contributory factor, and were responsible for 36.1% of casualties.
As a result, TyreSafe is calling for renewed vigour in the campaign to raise awareness among motorists of the importance of tyre safety. The organisation believes the report adds to the existing body of evidence which indicates motorists are neglecting the routine checks which could help keep them, and other road users, safe.
TyreSafe Chairman, Stuart Jackson, said: 'The figures support TyreSafe's findings which show too few of Britain's motorists inspect their vehicle's primary safety feature before taking to the roads. Unlike other vehicle components, tyres can easily be checked visually – it is ultimately the driver's responsibility to ensure that their vehicle is safe and they clearly need to take immediate action if tyres are flat, have lumps, bumps or cuts – or if they're bald.
'Defective tyres dramatically reduce the effectiveness of a vehicle's steering and braking systems, can potentially suffer catastrophic deflations and potentially add to the numbers of road casualties.'
Tyres not in tip-top condition can also have a dramatic impact on vehicle operating costs with industry data suggesting that the wrong pressure could reduce tyre life by about 25% and incorrectly inflated tyres can increase fuel consumption by up to 10% – as well as endangering life.
What's more, adequate tread depth is critical to road safety, particularly in wet conditions as the tread grooves help to remove water from the road surface. Without sufficient tread depth drivers may suffer from a loss of grip or traction leading to longer stopping distances, reduced handling and an increased likelihood of aquaplaning.
TyreSafe wants fleet managers and company car drivers to adopt the 20p test to stay safe and legal.
If the outer rim of the 20p coin is covered by the tread that indicates sufficient tread depth to be safe and legal.
Current UK law requires car tyres to have a minimum of 1.6mm of tread across the central three quarters of the tyre, around its entire circumference. Drivers found to be in breach of these regulations face a fine of up to £2,500 and three penalty points for each illegal tyre.
How to take the 20p test
Tyre tread depth should be checked at least once a month at the same time that tyre pressures are checked.
A 20p coin provides a useful alternative to a calibrated tread depth gauge.
Insert the 20p coin into the main tyre grooves at several places around the circumference of the tyre and across its width.
If the outer band of the 20p coin is visible whenever you insert it into the grooves, your tread depth may be illegal and you should have them checked by a qualified tyre specialist.
When checking your tread depth, give the rest of the tyres a visual inspection for any cuts or bulges and remove any stones or objects embedded in the tread.
If in doubt, visit your local garage or tyre dealer.