14 September 2017

Activa Contracts launches new website with added functionality
Activa Contracts has launched a redesigned website with new functionality and features promoting its consultancy approach to delivering vehicle and driver management solutions.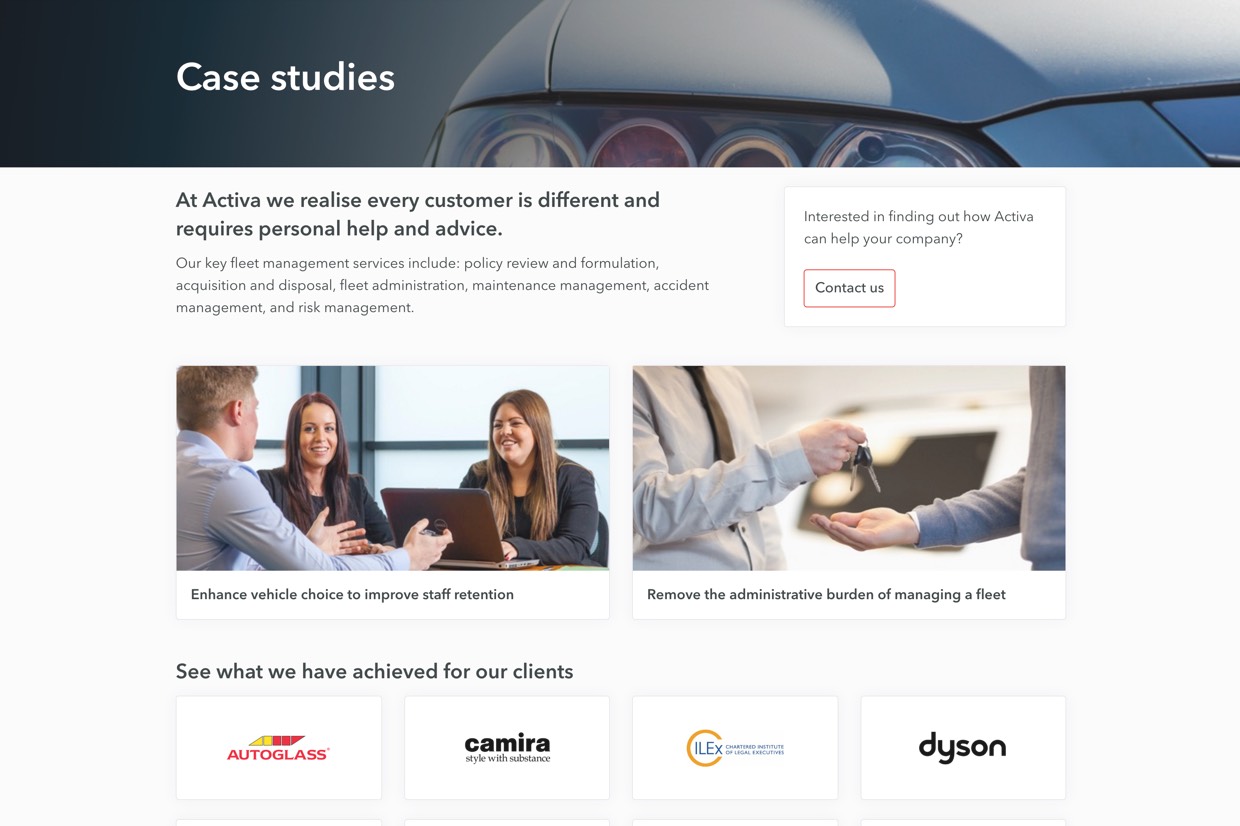 This new site features a sleeker modern design that makes navigation easier for our customers and puts all the information they need right at their fingertips.
We pride ourselves on the comprehensive range of vehicle funding solutions we offer and the consultancy work we do to provide a bespoke funding and fleet and driver management service to individual customers.
The new website reflects that approach, with vehicle selection based on whole life costs, and delivers a comprehensive suite of fleet tools to enable customers to make the most of their vehicles – and their budgets.
These tools include:
Autocentre – A suite of fleet management applications designed to keep decision-makers in control of their vehicles 24/7. Features include: a car finder service, quotations and vehicle ordering, mileage capture, access to standard and customised in-life vehicle reports and key driver support information.
Carbon calculator – This enables fleets to calculate total carbon dioxide (CO2) output from vehicles.
Car tax guide – Provides comprehensive details on all vehicle and driver tax, including car salary sacrifice and car or cash allowance tax rules and a benefit-in-kind tax calculator.
Genson – Like the car tax guide, a tool developed in partnership with leading automotive industry consultancy and tax experts BCF Wessex, it provides a range of whole life cost calculators and comparators focusing on the total value of company cars.
The new website also offers key information, video overviews and direct links to Activa Contracts' industry-leading partners, which include light commercial vehicle conversation specialists Bott; in-vehicle driver behaviour technology specialist Lightfoot; and accident management and risk management specialist AA.
Finally, the website also includes a new and improved news section designed to keep customers up to date with our latest innovations and events, as well as informative updates relating to the wider fleet industry.
Activa Contracts' Managing Director Ian Hill said: 'The new website delivers a unique insight into all that is best about Activa Contracts and how our experts help businesses operate their fleets in the most cost-effective and compliant way.'
'The modern and sleek design with easy navigation is reflective of Activa Contracts: a company that prides itself on delivering a consultancy service to customers allied to a personal service. Activa Contracts' ethos is summed up by its strapline – 'Company Cars Powered by People'.'