17 July 2015

Employee driving licence check code's lifespan extended from three to 21 days
The Driver and Vehicle Licensing Agency (DVLA) has extended the validity period of the check code generated for drivers to share their driving licence details with a third party in order to prove their entitlement to drive - for example in response to a request from their employer, or when hiring a vehicle - from 72 hours to 21 days.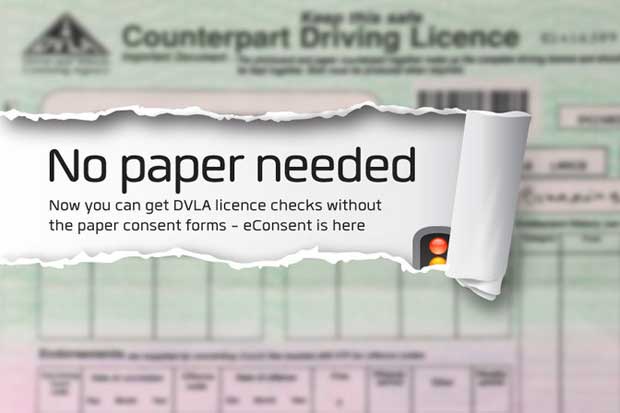 The new Share My Driving Licence service was launched by the DVLA as a consequence of the abolition of the counterpart of the photocard driving licence in June.
Generating a check code and passing it to a third party will allow, for example, an employer or car hire firm, to validate against DVLA records the vehicles a person is eligible to drive, any penalty points or disqualifications they might have incurred and the last eight characters of their driving licence.
The service has since been in public beta. That means it is fully functioning and being used by drivers while still being tested. During beta testing the DVLA continually monitors the service and customer feedback to see if it can improve the service.
As a result, feedback has highlighted that in some cases the 72-hour validity period was not long enough. It was clear, said the DVLA, that some users wanted the check code to last longer. Consequently, the validity period has been extended to 21 days.
The DVLA says it will review the 21-day period in three months once it has had further feedback from users and industry.
Gerry Keaney, Chief Executive of the British Vehicle Rental and Leasing Association (BVRLA), said: 'We're pleased that the DVLA has listened to industry feedback that the code lifespan was too short. This common-sense approach will reduce queues at rental desks and give millions of renters more time to plan and arrive prepared ahead of their journey.'
Although it welcomed the extended code lifespan, the BVRLA is still calling on the DVLA to make other changes that would benefit consumers:
Mr Keaney said: 'We think that the DVLA should extend the opening hours of its call centre, because not all renters have access to the internet.
'The agency should also waive the cost of the premium line telephone service that is used to check endorsements when motorists turn up without a code.
'Finally, we think that the DVLA can make it easier for people to access the View Driving Licence website by being more flexible on the ID required. For example, most travellers would find it easier to provide a passport number than a National Insurance number.'
The Freight Transport Association (FTA) also welcomed DVLA's announcement. Ian Gallagher, FTA's lead on DVLA, said: 'Common sense has prevailed and DVLA has listened to what we have been saying about the new online system not being fit for purpose.
'Allowing employers longer to use the code before it expires is a sensible move. However we still believe more changes are needed to make the system efficient and effective, such as the ability to check non-GB licences online instead of via an office-hours-only phone line. Bulk checking of licences is also an issue that needs to be reviewed.'
FTA entered into prolonged dialogue with DVLA prior to the system being launched in the hope that employers would easily be able to check licences in bulk. Many were now using third-party services at a cost because of the added time and resources required to check each one separately online.
Mr Gallagher said: 'The scheme was part of the Government's Red Tape Challenge to reduce legislative burden, but for employers with hundreds or even thousands of drivers it's a cumbersome and time-consuming process which does the exact opposite.'