8 November 2019

Government to review 'reckless act' of hand-held mobile device use while driving
The Government has committed to review the 'reckless act' of driving while using a hand-held mobile device to film or take photos - but it is unlikely to change the penalty of a £200 fine and six penalty points.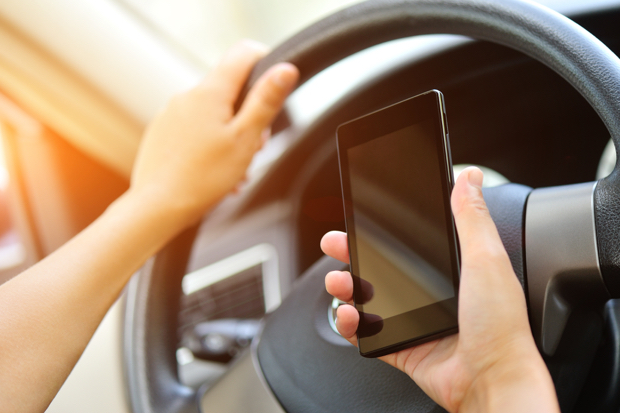 Ministers have also ruled out extending the ban on hand-held mobile phone use while driving to include hands-free options, but the Department for Transport is to take action to deter people from using those devices while driving.
What's more, the Government said: "It would continue to make it clear to fleet drivers and their employers, that they should not answer their mobile phone while driving, in a similar vein to the advice provided to Government staff."
For example:
The Government Car Service advises its drivers to adhere to the law regarding hand-help mobile phones and to ensure they limit hands-free use to urgent matters
The Driver and Vehicle Standards Agency whose driving at work policy highlights that hand-held use is illegal and the risks associated with hands-free usage and urges drivers not to use either while driving, except hands-free use where necessary for carrying out Enforcing Stopping Officer duties
The Driver and Vehicle Licensing Agency and the Vehicle Certification Agency issue guidance to their drivers and contractors about adhering to the law on hand-held mobile phone use and refraining from hands-free use as far as possible.
Initiatives that will be taken to deter drivers from using devices, highlighted in the Government's response to the House of Commons Transport Committee's road safety investigation into driving while using a mobile phone held earlier this year - see https://www.activacontracts.co.uk/news/mps-launch-new-inquiry-as-concern-mounts-over-drivers-mobile-phone-use.html - include: Seeking views on the use of hands-free phones as part of the upcoming review of road traffic policing, considering amendments to the Highway Code and inclusion in road safety campaign activity.
The Government also said that it would refocus efforts to help the police and Crown Prosecution Service take effective enforcement action against offenders.
The Government said in its response that the law applying to using a hand-held mobile device while driving must 'reflect the real world' where smart phones or devices were not just used for phone calls and texting but also scrolling playlists, taking photos, filming or drafting emails.
Consequently, it is likely to be an offence to use a hand-held mobile device while driving to film when behind the wheel, while also bringing technology such as using smart watches when driving within the scope of the legislation.
Any change to the law would be open to consultation but ministers said they expected to have proposals in place by spring next year.
Transport Secretary Grant Shapps said: "We recognise that staying in touch with the world while travelling is an essential part of modern day life but we are also committed to making our roads safe.
"Drivers who use a hand-held mobile phone are hindering their ability to spot hazards and react in time - putting people's lives at risk. We will look to tighten up the existing law to bring it into the 21st century, preventing reckless driving and reduce accidents on our roads."
The Committee report's key recommendations were that the Government:
Redefine the offence of driving while using a mobile phone or other device so that it covered all hand-held usage
Explore options for extending the ban on driving while using a hand-held mobile phone or other device to hands-free devices
Engage with police forces and Police and Crime Commissioners to explore options for improving the enforcement of the offence
Set out a plan for devising and implementing a public education campaign about the risks of using a mobile phone while driving and the penalties for being caught doing so.
Committee chairman Lilian Greenwood said: "The Government's decision to accept our recommendation to tighten up the law around the use of hand-held mobile phones while driving is great news. The difference between interactive communications and standalone functions on our phones is a loophole that has prevented police from prosecuting drivers who continue to use their phones behind the wheel and put themselves and other road users at risk.
"Our evidence showed that the risk from hands-free devices is just as real. While we're pleased that ministers will prioritise work on hand-held mobiles, this issue still needs to be addressed."
The Government also highlighted in its response that there was a role for mobile phone providers in offering technical solutions to the problem of drivers using hand-held mobile phones while driving.
It said: "There has been some developments, for example automatic messaging saying that the driver is currently driving and cannot therefore answer a call; or the phone cutting out after certain speeds are reached. There is more that industry can do to help with technological solutions."
Neil Greig, director of policy and research at IAM RoadSmart, the UK's biggest independent road safety charity, said the Government's proposals "were good, but not good enough".
He continued: "The increased penalties introduced in 2017, six points and a £200 fine, did change drivers' behaviour for a while, but bad habits are creeping back in. Drivers keep doing it because they don't think they will get caught, and they don't appreciate they are risking lives. Mobile speed cameras need to be employed more broadly to also catch drivers using hand-held phones. Drivers need to know their actions could kill."